BACKSTROM revealed a secret romance in last night's episode, "Ancient, Chinese, Secret."
According to series star Kristoffer Polaha (Niedermeyer), the seeds were planted from the start, as he told his co-star, Beatrice Rosen (Paquet) they should just play that there was something there. And, voilà!
On the show's Vancouver set, Polaha spoke with reporters about the romantic revelation…and, after learning what the term "shipper" means, tried to help brainstorm what the couple's name should be…
It's not uncommon for people associated with shows to claim they're doing something that hasn't been done on television before. Occasionally, they're at least partially correct. But when talking about the new Fox comedy, THE LAST MAN ON EARTH, it's hard to think of any other series that has attempted something quite like this — there is nothing on television to hold it up against, the show is its own unique being.
The basic premise is simple: Phil Miller (Will Forte) is, as the title suggests, the last man in the world. He traveled all over looking for another living being, and has now settled in Arizona (with some ball buddies).
Beyond that? The series gets a bit more complicated, as layers of the show are pulled back that really can't be discussed until it airs.
So in the meantime, I asked THE LAST MAN ON EARTH executive producers Chris Miller and Phil Lord what they want viewers to know about the series pre-air, and spoke with series star (and creator) Forte about acting solo…
Hey, BACKSTROM fans! This episode, "Ancient, Chinese, Secret," features money, a laundry, and money laundering. There's also a case surrounding the murder of a psychic, and this allows both the characters and the audience to see a little bit into the future, for better or worse. There's a lot to discuss, so let's get to it!
CBS has set premiere dates for its summer lineup.
Check out the release, which includes dates for the returns of UNDER THE DOME (which includes new guest star Marg Helgenberger), EXTANT, and BIG BROTHER, as well as the series premiere of ZOO…
On tonight's episode of BACKSTROM, the team investigates the death of a Chinese fortune teller…and, naturally, as they work through the case — and deal with alleged psychics — secrets are being revealed about members of the SCU.
As the cast of BACKSTROM filmed "Ancient, Chinese, Secret," they took some time out of their production schedule to speak with reporters on the show's Vancouver set to tease the hour…
[Warning: this post contains spoilers for ARROW's "Nanda Parbat." Please do not read this article until you've watched the episode.]
In tonight's brand new episode of MAN SEEKING WOMAN, Josh and Mike head to a destination wedding…in Hell.
But before the duo can get there, Josh — in a funk from his hookup with his ex, Maggie, being a one-time thing — is encouraged by his sister, Liz, to come out for a night of dancing with her and her boyfriend. But, with this being MAN SEEKING WOMAN, the "dancing" isn't what you might expect.
ARROW goes on a mini-break after tonight's new episode, so, naturally, the show is ending things on one heck of a cliffhanger.
Lady Gaga has joined the FX anthology series, AMERICAN HORROR STORY for its fifth season.
The singer posted a video announcing her casting on Twitter, and also announced that the latest version of the horror series will be subtitled "Hotel."
Other cast members — and a premiere date — have yet to be announced, but it's likely there will be a bit more insight during the show's March 15th PaleyFest panel.
Are you excited to have Gaga on AHS?
Follow @GiveMeMyRemote and @marisaroffman on Twitter for the latest TV news. Connect with other TV fans on GIVE ME MY REMOTE's official Facebook page.
And be the first to see our exclusive videos by subscribing to our YouTube channel at youtube.com/givememyremotetv
PARKS AND RECREATION said its goodbye on NBC last night — and how incredible was that episode?! — and after the hour aired, the entire cast appeared on LATE NIGHT WITH SETH MEYERS.
If you're a PARKS fan, the entire LATE NIGHT episode is worth watching, but if you need a little more immediate PARKS in your life post-finale, the cast singing "Bye, Bye Li'l Sebastian" (and two unexpected people making out) should do the trick…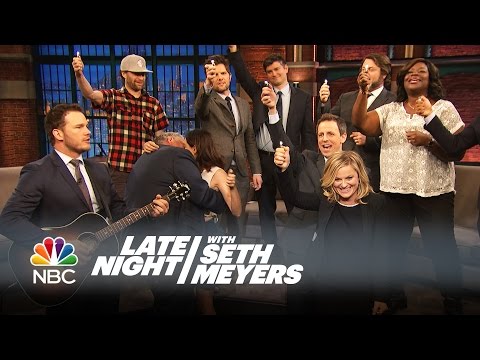 Follow @GiveMeMyRemote and @marisaroffman on Twitter for the latest TV news. Connect with other TV fans on GIVE ME MY REMOTE's official Facebook page.
And be the first to see our exclusive videos by subscribing to our YouTube channel at youtube.com/givememyremotetv