Why Don't Ya Come Up and See Me Some Time, Federal Agent?
Hello lovelies! Was your Thanksgiving adequately gluttonous? I discovered a marvelous recipe for something called the Perfect Turkey (a Wild Turkey Manhattan with both sweet and dry vermouth), and it kicked off my holiday season just right. And here it is, the weekend all over again. I'm already feeling pretty festive, so I'm thinking I'll probably don a fuzzy sweater, whip up a batch of nog, and stay in with the Grinch and Charlie Brown this weekend, if you know what I mean. But if you find yourself in a setting that requires more by way of repartee, here's my take on the news of the week.
Rumbles of hope emanated from Strike Land on Thursday when the producers presented the WGA negotiators with new terms that address, among other things, some of the issues with Internet royalties. The WGA asked to have until December 4 to mull it over. There are reports of cautious optimism, gleeful reticence, suspicious titillation and other not particularly informative feelings from Hollywood tonight. In a statement, a spokesperson for the American Motion Picture and Television Producers said, "The development of a new offer has surely caused everyone involved to be suffused with a particularly subtle brand of effusive evasiveness. Without a doubt, we are moving toward further action that could possibly result in consequences with either positive or negative results, depending on the tide, what we've all had for breakfast, and whether or not we're having a good hair day." In other words, this might be great news, or it might be nothing, and there is absolutely no way to tell.
It's November 28, 1999. I'm glued to the TV watching the Millennium crossover episode of The X-Files. I know, everybody knows, since the buzz has been coming hot and fast, that Mulder and Scully were finally going to score some hot lip-locking action. It wouldn't be like the episode from the previous season where the smooch didn't count because it took place in some kind of alternate reality on a boat. This would be for real, and all our lustful vicarious dreams would finally be realized. Except that they totally wussed out and just made it a stupid little midnight at New Year's kiss that didn't mean anything. Assholes. I'm not sure I ever forgave them. Fast forward seven years, 364 days. With just a hint of that former obsessive gleam in my eye, and the strange realization that I apparently have some kind of televised FBI agent fetish, I tuned in to see Agent Booth and Dr. Brennan play a little tonsil hockey on Bones. Sure, it wasn't an X-Files level of anticipation, but I've watched the show since the beginning, and as unrepentant shipper, I was more than ready for some action. And you know what? Those Fox cretins fooled me again. This time they did it with a stupid little Christmas under the mistletoe kiss that didn't mean anything. Welcome to Gullibleville, population me. But I've got to admit, while it wasn't as hot as the pervert in me clearly desires, it wasn't a bad kiss; there was even gum swapping. So maybe I squealed a little. And clapped my hands. And rewound it three times. I'm a fool for the FBI (Federal Bureau of Intimacy, natch.)
"Toto, I don't think we are in Kansas anymore." Ain't that the truth! Starting this weekend get a glimpse of the Wizard of Oz SCI FI style when the Sci Fi Channel presents TIN MAN. A slightly different take on Dorothy's adventures in Oz and the friends she meets along the way.
I haven't seen TIN MAN yet but I've heard great things from friends who have and I can't wait to check it out this weekend. The three night tale, TIN MAN, begins this Sunday (12/2) and concludes on Tuesday – each episode beginning at 9pm.
Here's a little sneak peek at TIN MAN (and for more information, continue reading after the jump).

TIN MAN Board Game & Comic Giveaway
In honor of this epic tale, the SCI FI Channel is giving away a TIN MAN board game perfect for game night (or perhaps a nice holiday present) as well as an official TIN MAN comic.
Entering is easy, just leave a comment telling me one movie/tv show that each of the five leads of TIN MAN has been in before. The leads first names are Zooey, Kathleen, Alan, Richard, and Neal. (No cheating, this one isn't difficult for you to figure out on your own).
Sadly, I have been super busy the past few days and have not had the time to sit down and properly recap the disaster that was this week's PROJECT RUNWAY. Here are a few measly sentences of my own, but I encourage you to check out Jennifer's Runway below for more on this week's episode.
I can say that to call it a runway wreck would be a bit of an understatement. I can't remember a challenge in which the designers let such hideous creations on to the catwalk. I would have Auf'd at least three of them this week without batting an eye. Carmen sent a shirtless model out there, Sweet Pea's excuse for a shirt was embarrassing (I mean why couldn't she just take 5 minutes and make a t-shirt for the guy instead) and Ricky's ill fitting and constructed suit might as well have been made my yours truly (which is not saying much because I can't sew a button). All and all this week's episode had me reaching for the Tums and gave a whole new meaning to 'Make it Work'. But on the bright side this week the ladies were pushed aside and we got to see some incredibly hot male models stand around in their undies for most of the episode. It made up for the incredibly bad designs..believe me.
In the end, Jack and his pinstripes took home the big win, and Carmen was Auf'd.
Jennifer's Runway…

For a hilarious and in-depth recap of this week's episode, head over to my pal Jennifer Eolin's recap. Here's a little taste…
Question 1: How did Nostradamus miss predicting this challenge for Project Runway as a cataclysmic disaster?
Question 2: When Christian speaks (aka: nasally whines) doesn't he sound like David Spade on SNL when he played one of The Gap Girls w/ Sandler and Farley?
Question 3: Is football really the only acceptable time to wear Spandex on TV?
In a nutshell, this episode made me lose water weight. I was sweating along with all the designers and Tim Gunn (there was moisture on his brow – boyfriend glistens!) and I may have even peed a little when Elisa talked about intimately fitting her male model. Son of a B that woman is bat shit crazy.
Christian started this episode out with a bang with his pretentious whimper: "After almost being eliminated, I'm not as confident as I was before, but I just know that I make clothes so much better than a lot of the other designers." Swing… and a miss. He was humble for about 3.2 seconds, and then he went to Arrogant Town and set up shop again. BUT, as a reality show writer, I noticed that the second half of the bite had b-roll over it so I wonder if these two sentences REALLY were stated one after another in real reality, not the fake reality of the editing process. Either way – his character as an elite a-hole is sealed on this show. (Continue reading…)
Tonight Ducky and I are meeting to do some dinner and dish on our favorite shows. That means a new TV Podcast with Kath and Dan!
Now that many of the shows are winding down and presenting the last of their original content due to the WGA Strike, we were wondering what you'd like us to talk about most?
Leave us some comments on this post or call us and let us know! We might use your question or comment on our podcast.
Free Voice Mail (Comments/Questions):
This is Dan and Kathie's favorite method of contact because it allows us to hear from you and we use these messages live on our podcast to answer your burning television questions. It's FREE and you don't have to do anything but click RECORD BY PHONE on the box below and it will walk you through how to contact us!
It's super easy and free to leave us a message:
Step 1: Click on "Record by Phone"
Step 2: Dial the number shown and enter the four digit code when prompted
Step 3: Leave a message
Step 4: Listen to our next podcast to see if we answered your question
Don't worry if it still says '0' messages after you leave your question…we just have it set up that way. Come one, leave a question…it will be fun!!
Hope to hear from you soon!
No, we haven't resolution but perhaps, just perhaps things are going in the right direction.  Nikki Finke of DeadlineHollywood.com provided this exclusive update earlier this evening.  Read it for yourself and make your own assessment of how you think things are going.  I wouldn't say I'm even to the level of being cautiously optimistic, but at least the two sides are talking.  Now let's just hope they are hearing each other.
The AMPTP presented what its sources just told me are "a number of New Media proposals" today at Talks Day #4. "This is the day it shook loose," a relieved insider just told me minutes ago. (This is also what I was reporting in my explusive post, Moguls Supposed To Present A Better Offer To Writers At Talks Today.) I've learned the AMPTP presented the WGA with "new terms involving streaming, made-for, Internet, and other issues". The WGA requested a suspension in the talks until Tuesday December 4th to study the new proposals. My sources say this came as something of a surprise to the moguls' side because their negotiating team was "ready to keep bargaining through the weekend". On the other hand, the AMPTP side waited until the end of today's session to present the terms (and then did so with much fanfare), and it really surprised the WGA negotiators who'd been increasingly doubful there'd be such a moment. But let's not be overly optimistic or naive, either. The big questions now are: Are these truly "new" proposals or just newly packaged "old" proposals? And are they good enough to get this strike settled by Christmas? Let's hope… (DeadlineHollywood.com, as of 9:15pm)
A big shout out to GMMR reader Carly Jaye for reminding me that tonight on Bravo is a new Kathy Griffin stand up special, "Straight to Hell". I've made my love for Kathy Griffin very known around these parts and I can't believe I forgot to add it to my watchlist for tonight. I thought the only way to make it up to Ms. Griffin was to give her special its very own post.
So check out "Straight to Hell" tonight at 9/8c on Bravo.

Suddenly my night is looking a bit better.
It's Thursday, but it doesn't feel like Thursday. I wonder what Jim and Pam are doing right now. I wonder if Dwight is still reeling over his break up with Angela. Michael is probably doing something ridiculous, and Ryan is most likely still a DB, but I guess we won't know because The Office is over. But there are other shows to watch tonight, albeit it not many because most are in re-runs. Looks like 30 Rock is going to be the highlight of my evening. But Thursday just doesn't feel like Thursday with out Dunder Mifflin.
Here's what I'll be watching, what will you be checking out?
My Name is Earl | 8pm on NBC

"Burn Victim″
Earl hopes to finally win his freedom by helping the warden (Craig T. Nelson) with yet another jailhouse cause. This time, Earl must smooth over tensions between an inmate and his crime victims.
30 Rock | 8:30pm on NBC

"Cougars"
Tracy coaches an inner-city Little League team, but Jack causes complications when he sets out to make the team a winner. Meanwhile, the new coffee guy woos Liz, despite their 17-year age difference. Edie Falco guest stars.
The Office | 9pm on NBC (Repeat)

"Back From Vacation"
Michael returns from his Jamaican vacation a relaxed and revitalized man, but that quickly changes when a spicy vacation photograph makes its way around the office. Meanwhile, Jim and Karen have an argument—with Pam caught in the middle of it all. – Yes, it's a repeat but I'll still be watching. The writer's get paid residuals 🙂
Scrubs | 9:30pm on NBC

"My Growing Pains"
J.D. tries to grow up for the sake of his baby, but Turk resists his new goal. Elsewhere, Dr. Cox gives a patient difficult news, and Elliot plans a birthday party for Kelso, whose real age is revealed.
Also new episodes of…
Survivor: China| 8pm on CBS
ER | 10pm on NBC
Big Shots | 10pm on ABC
…what will make it's way on to your TiVo tonight?
GMMR's daily "What to Watch" is powered by MeeVee's interactive TV listings.
Once again, PUSHING DAISIES proves it's unlike any other show you'll find on TV today.  Unapologetic in its quirkiness, Pushing Daisies can take creative risks that in the end serve to be a feast for the ears and eyes for the viewers who have comes to love the pie maker Ned and his friends.  Whether it's the stunning visuals of the set design and costumes, the intricate sing-song dialogue, or the meshing of dark themes into a bright world, there's something so special about this show – one who eight episodes in still has me just as enthralled and excited as I was upon seeing the 'Pie-lette' for the very first time back in the spring.  Sadly, we only have one more original episode of Pushing Daisies until after the writers strike so I'm going to enjoy it while I can with a self indulgent recap of last night's episode, "Bitter Sweets".
Last night's episode was yet another gem. Guest star Molly Shannon was fantastic as the sugary sweet turned sour candy shop owner, and once again Lee Pace & Anna Friel's chemistry showed why Ned & Chuck will be remembered as one of the great TV couples of all time. Every line was once again quotable and ever scene delicious as one of Ned's pies.
Ned and his Pie Ho's were under attack by new, local candy store owners Dilly and Billy Balsam of Balsam's Bittersweets Taffy and Sweet Emporium.  Being competitive confectionery connoisseurs (and not very nice neighbors), Dilly and Billy showed that they weren't afraid to play dirty by messing with the pie maker's storefront sign, turning The Pie Hole into The Pie Ho. I mean who wants to eat at The Pie Ho, right?  But when that wasn't enough, the Balsam's took drastic measure to shut Ned's Pie Hole.  All it took was a surprise inspection that included a tour of The Pie Hole's secret back room where Ned stored his dead, rotting fruit (that would come back to life with just his touch) and The Pie Hole was shut down.
With what perhaps might be the last episode of BIONIC WOMAN, I want to take a moment to thank Jo for her recaps this season. I'm not sure you can appreciate how difficult it is to recap a show that week to week was a big old let down.  This summer, Jo and I (and pretty much all the studio execs) had such high hopes for this show and it never quite got there.  With a behind-the-scenes team that included writers and producers from Battlestar Galactica and Friday Night Lights, arguably the two best shows on television, I'm not sure where Bionic Woman went wrong.  Let's just hope NBC let's this one die. Thanks again to Jo for sticking with it this season.  You're the best!
Title: "Do Not Disturb"
Original Airdate: 11.29.07
GMMR Recapper: Jo
Well the good news is with the strike and Bionic's name left off the list of back 9 renewals, this is probably the end of the road. The great news is in five months I'll return with Battlestar Galactica recaps again. All you BSG avoiders have plenty of time to get the DVDs and catch up. Don't bother with the old series. Start with the 3 hour miniseries and then go straight into season 1. You can thank me later.
Not even close to relevant but a vane and last ditch attempt at character development B plot. Nathan, the techie, asks Jae to teach him to fight. So he can stop getting the snot kicked out of him by his older brother.
Meanwhile, the Berkut group mourns over Burke for 3.5 seconds. Except Jaime who's supposedly holding it all in and as much as I'd like to believe Michell Ryan is a good actress, I'm not buying it. She takes her frustration out on some unexplained foot soldier with dreads, so Jonas sends her on a vacation with the Whiny Sister. Their first order of business is pig out and watch Heroes. Positive props for it being a Hiro scene, but negative props because they could've used that moment to show a picture of Apollo and Anders shooting Cylons.
Last time we saw Michael Scofield he was still behind the walls of Sona. But in these pictures taken on location in Arlington, TX yesterday it seems that Michael is walking around town in plain clothes. According to the Star-Telegram, Wentworth and others were on the street rehearing before shooting. So has Michael escaped once again? It appears so.
Soooo excited for tonight's TV. Not only is one of my very favorite Christmas specials on, but we also have a brand new episode of PUSHING DAISIES. No PRIVATE PRACTICE tonight, but don't worry, you can get your fill of high drama and inappropriate behavior with DIRTY SEXY MONEY. And will tonight's last new episode of BIONIC WOMAN be the last we ever see of it?
What will you be watching tonight?
Shrek the Halls | 8pm on ABC

Shrek, Fiona and the kids try to celebrate the holidays as a family, but visits by Donkey, Puss in Boots, Gingerbread Man and others turn a cozy gathering into a chaotic Christmas. Voices include Mike Myers, Cameron Diaz, Eddie Murphy and Antonio Banderas.
How the Grinch Stole Christmas | 8:30pm on ABC

The Dr. Seuss tale about the Whos, creatures who like nothing better than Christmas, and the evil Grinch, with a heart two sizes too small—and a plan to steal the holiday. Boris Karloff narrates this 1966 classic.
Pushing Daisies | Special Time: 9pm on ABC

"Bitter Sweets"
A vindictive taffy shop owner (guest star Molly Shannon as Dilly Balsam) sets up shop down the street from The Pie Hole, determined to drive Ned out of business by any means necessary.
Swing on over to ThePieMaker.com tonight at 9pm and watch Pushing Daisies with me!!
Gossip Girl | 9pm on The CW

"Blair Waldorf Must Pie"
Dan invites Serena's family to share Thanksgiving dinner with his family, unaware of the awkward situation this creates for Rufus and Lily. Elsewhere, Nate and his parents also share an uncomfortable holiday meal; and Blair gets upset when she finds out her father won't be coming home for Thanksgiving.
Dirty Sexy Money | 10pm on ABC

"The Watch"
Letitia's affair with Nick's father is revealed through flashbacks, and Simon and Karen flirt at the hospital while visiting Patrick. Meanwhile, Brian is busted for bribing the arbiter in his custody case.
Project Runway | 10pm on Bravo

The contestants try to measure up while working for a very different client. So what are we thinking, a dog?
Also playing…
America's Next Top Model | 8pm on The CW
Kid Nation | 8pm on CBS
Bionic Woman | 9pm on NBC
Criminal Minds | 9pm on CBS
CSI: NY | 10pm on CBS
…what will make it's way on to your TiVo tonight?
No new news as of yet on the WGA strike talks. There's a media blackout but I keep checking DeadlineHollywood.com about every ten minutes or so, so if there is any news I'll be sure to let you all know.
In the meantime, kudos to JERICHO fans for putting together this brilliant and very professional video in support of the WGA. Impressive.
Keep reading UnitedHollywood.com for more information on how to support the WGA.
HEROES star Kristen Bell is featured on the cover of the December issue of Complex Magazine.  I can't say that I've ever heard of Complex, but based on the photography I'm not sure the magazine is really meant for me.  But there's not denying Kristen looks hot.  Although, not to be a prude, but I've seen sexier pics of Kristen when she was wearing more clothes.
Boys, click to enlarge.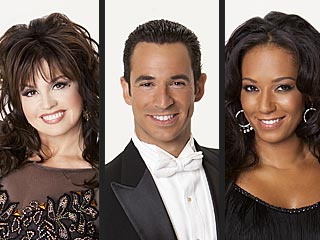 I can't say that I've been watching DANCING WITH THE STARS this season, but I know some of you have. Some of you enjoy the dancing and some of you have just been enjoying hottie Julianne Hough (the girl is smokin', I don't blame you). But in tonight's season finale only one celeb walked away with the big trophy.
The winner of this season's Dancing with the Stars is…
Here's why HOUSE can't have four new members on his team – too many medical opinions can be confusing (at least for me).In tonight's episode, the last until January, Dr. House finally chose the members who would be joining his team. Feeling the pressure from Cuddy to narrow it down from four (Taub, 13, Kutner, and Cutthroat Bitch) to two, House pushed back saying he wanted to at least hire three of them. Cuddy refused, and when House asked for her opinion she suggested keeping Kutner and Taub. Not quite ready to take advice from Cuddy, House put the four candidates in a FTW free for all. Patient: a druggie rock star wannabe throwing up blood – the one to get the correct diagnosis wins (and the other new team member will be picked randomly). All this hard work comes down to this case, but we know it doesn't because let's face it, House knew he was going to choose probably by the end of the first week.